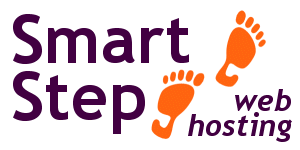 ... advanced and affordable
Linux based web hosting
Our website is currently undergoing redevelopment.





All hosting packages include:

cPanel - Advanced Control Panel
Fantastico Deluxe
Urchin Web Statistics
Free Mambo Installation
PHP/MySQL/CGI
Telephone/Email Support
99.9% Server Uptime
Spam/Virus Protection
FrontPage Extensions
Chatroom
Bulletin Board
Shopping Cart
MANY more features...

We specialise in hosting Moodle, the course managment system. View our demo site at http://moodle.smartstepwebhosting.co.uk/.

With Fantastico Deluxe, you can install powerful PHP scripts with just a few clicks of the mouse. No technical expertise is required and you can easily, instantly give your web presence a cutting edge.

From Discussion Boards and Blogging and Instant Website Systems, through to powerful Content Management and E-Commerce packages - Fantastico does it all.
sales@smartstepwebhosting.co.uk
Telephone: 08704 787 819


Current server uptime: 2 days, 20:50